Audience development
In a publishing world driven by a new mix of web, mobile and print; legacy fulfilment solutions are failing to segment and monetize audiences. ADvance audience development transforms your segmentation and monetization capabilities, offering sharper marketing, higher sales, and lower costs.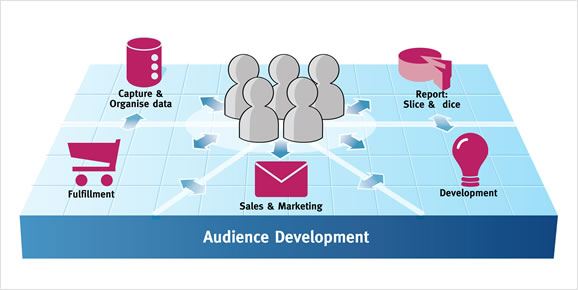 The internet, iPads and smartphones have liberated information in new, and often unexpected, ways. Publishers now have the opportunity to sell highly tailored subscription services, slicing and dicing existing content for audiences that are defined by both traditional brand loyalties and by entirely new information demands.
To sell to these new audiences effectively, publishers need to know more about their customer base as a whole, across all brands and services. Existing data systems can make gaining this whole-customer view difficult to obtain, and almost impossible to maintain. Efforts to build an in-house integrated database of multi-channel subscribers have tended to end in expensive failure.
ADvance takes a different route, using cloud-based services to create a unified view of your customers. The key advantage is that ADvance can run alongside your existing systems, without disruptive change, and does not involve extensive and expensive IT investment. ADvance delivers a complete view of your audience, enabling up- and cross-selling between brands and channels, and cuts fulfilment bureau costs into the bargain.
The ADvance platform is available either as cloud-enabled software that operates alongside your existing fulfilment systems or as a component of a complete publishing fulfilment service from ADvance Services.
ADvance Services is a radically different subscription marketing and fulfilment services business, designed to help you sell more products and services more profitably. Using the ADvance Audience Development platform, ADvance Services offers insight and analysis as a fully integrated publishing fulfilment and audience development service that sharpens your marketing and helps to increase sales – at highly competitive rates.