Marketing Week rolls out eVision for event portfolio
Centaur Media has launched a new events hub section on their 'AOP award-winning' site – Marketing Week – powered by Abacus e-Media's eVision software.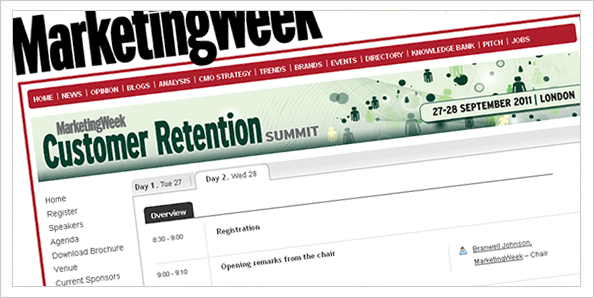 eVision is a new Webvision module which enables the publisher to promote feature-rich events – conferences, exhibitions, seminars, awards ceremonies – that can run as microsites within the parent brand or as a standalone website. The eVision CMS allows Centaur to create and manage event marketing and promotional content, dynamic agendas, extended exhibitor and sponsor profiles (fully branded pages with picture galleries, attachments and related content), and speaker biographies. Using Webvision's SPIN technology Centaur can embed related sponsor and speaker information around the wider editorial website and exploit the daily traffic volumes to improve online event promotion.
For more information about eVision CMS and to request a demo please contact us on 020 7766 9810 or email us on info@abacusemedia.com