Progressive Media's Arena International eVision site launches
Progressive Media's Arena International events division has relaunched its flagship events website using eVision CMS technology. The Arena site promotes over 80 leading global event formats including conferences, forums and awards, across a multitude of industry sectors including Oil & Gas, Construction, Energy, Pharmaceuticals and Telecoms & Technology.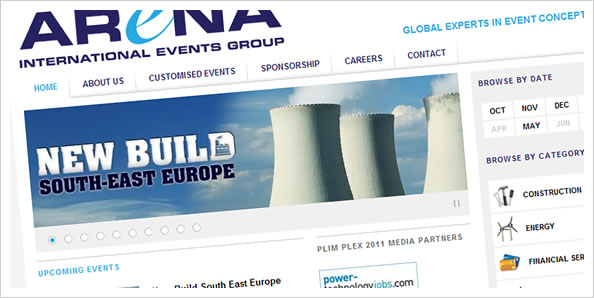 eVision allows Progressive Media to create and manage event marketing and promotional content, dynamic agendas, sponsor profiles (fully branded pages with picture galleries, attachments and related content), and speaker biographies. Using a microsite format and controlling the stylesheet (CSS) via the CMS, Progressive can easily create and update branded event sites, which has greatly reduced the in-house production overhead of creating and maintaining standalone sites for each event.
eVision is a new Webvision module which enables the publisher to promote feature-rich events – conferences, exhibitions, seminars, awards ceremonies – that can run as microsites or as a standalone website. For more information about eVision CMS and to request a demo please contact us on 020 7766 9810 or email us on info@abacusemedia.com.