Lincolnshire County Council win best Government Website of the year!
The winners of the 2011 Good Communication Awards, which took place at the Emirates Stadium, have been announced.
In the IT category, Government Website of the Year – which is awarded to the Government website project that can demonstrate a high degree of innovation and usability in providing its website service to citizens and/or local authorities and businesses – was awarded to Lincolnshire County Council, which was designed and built by Abacus e-Media running on the Webstructure.NET platform.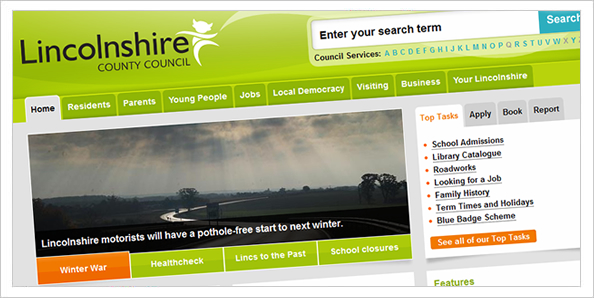 The event, presented by former newspaper editor and TV presenter Eve Pollard, recognised the good work of communications departments across local and central government.
The comments included that the council:
"has cost effectively refreshed the look and design of its site and included map-based tools to make finding local services easier."
The new Lincolnshire site, which launched last year, was re-designed by Abacus and is powered by our content management system – Webstructure.NET. Our brief was to help the council in its goal of channel-shifting customers towards the web, and the success of this has been recognised with the award.
This was achieved in a number of ways which include an improved navigation and search against a backdrop of a radical new design, our SPIN technology which allows the council to update and introduce content to the site much quicker and the faceted search powered by Lucene SOLR.
Have a look at our case study to find out more about our work for Lincolnshire County Council.
Congratulations also go to Lincs to the Past who were commended for the IT Project Innovation Award – fingers crossed for a win next year.