Recruitment Management
Recruit is a flexible e-recruitment system specifically developed for the public sector. You can tailor and configure the system to meet changing business requirements. From creating posts, with associated application forms, job descriptions and person specifications, through advert creation and web site display, and the handling and short-listing of online applications, Recruit allows you to manage all aspects of the recruitment process.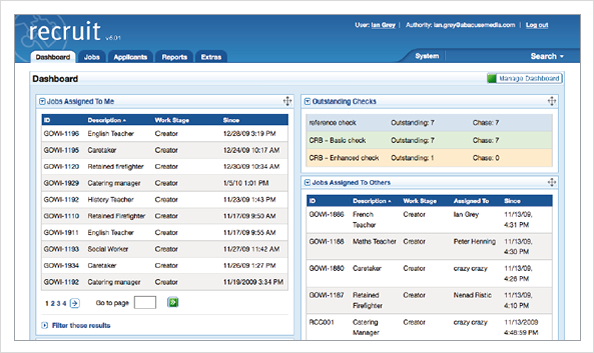 Key to this is the ability to devolve processes throughout the organisation while at the same time maintaining overall control. The flexible workflow module ensures that all the necessary checks are made and each step is authorized. Once the position is ready to be advertised, the system provides tools to help place press orders electronically as well as automatically publishing to the relevant websites. Once the application is received it supports reference and CRB checking and the auto-creation of emails or letters.
The advertising process can support a talent bank and alerts to match users to jobs. There are tools to assist recruiting managers in selecting and interviewing candidates, and the reporting functions allow managers to assess the effectiveness of the system as well as produce key reports for audit purposes.
To streamline the processing of jobs and applicants Recruit can integrate with any HR system that supports standard methods of data exchanges. Recruit has existing interfaces to support the importing of job details and the exporting of applicant details.
Version 5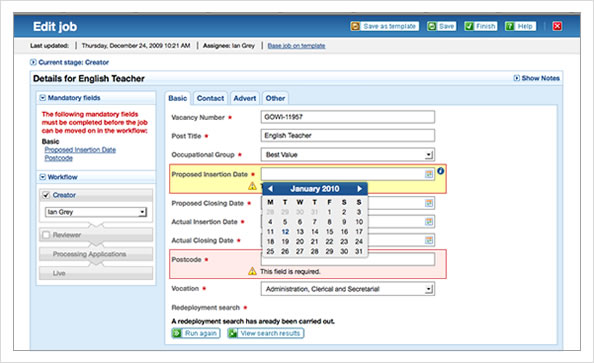 The new version of Recruit provides a new Ajax driven user interface to make it even easier to use and facilitate the devolution of most of the process from HR to the relevant departmental management, if that is envisaged. Job seekers also get more facilities on the web site and a redesigned online application form.
Recruit v5 is built on the Microsoft.Net architecture which provides increased security and performance. The framework has been taken from existing successful Abacus products in the media and publishing sector that support web sites with up to 40 million page impressions per month.
Recruit v5 is available as a hosted application, in line with the G-Cloud initiative in the Digital Britain report, via our IS027001 compliant hosting partner. This provides lower implementation and support costs, and facilitates more frequent enhancement. It also provides a perfect platform for a shared system, running recruitment for a number of participating clients. The software is also available for installation on your own servers.
Key features of Recruit v5
New architecture .Net. Provides enhanced security, faster processing and easier integration with other systems
Available as a 'cloud' application, e.g. G-cloud in the Digital Britain report. Lower implementation and support costs and more frequent upgrades.
Redesigned user interface for processing jobs and applicants. Reduced training requirements for new staff
Spell checker for Web Advert text
5 levels of Organisation hierarchy
Improved web site; including RSS feeds, maps on jobs, adding jobs to other sites, updating of online CV
For more information contact info@abacusemedia.com.