SOLR
Abacus is integrating an open-source enterprise search tool called SOLR into many of its latest sites. One example is Lincolnshire County Council, a site with a large amount of content and information; it's crucial that it can be found quickly and easily. If the user can't find the information quickly, they may turn to other forms of contact including phone calls or face-to-face contact, which would cost the council a considerable amount more than a web transaction.
Have a look at our recent white papers and cost cutting calculator to see just how much councils could save by channel shifting to the web. Of course many factors play a part in the success of a site, navigation, layout, design, content etc; but without 'search' to reduce the clicks necessary to get to the point of need, users may not be able to find any of this.
Before Lincolnshire re-launched the site they used to have a separate search for each of their databases. The new site using SOLR can search across all of these databases to pull in the results, meaning your site isn't cluttered with search boxes. Not only that SOLR can filter the results by date and category, give related terms, pull in maps and links to documents, and display all these results in one place.
The Lincolnshire County Council site makes great use of SOLR and its features. SOLR can pull in 'recommended links' which are selected by the web managers and displayed in a separate box above the full search results.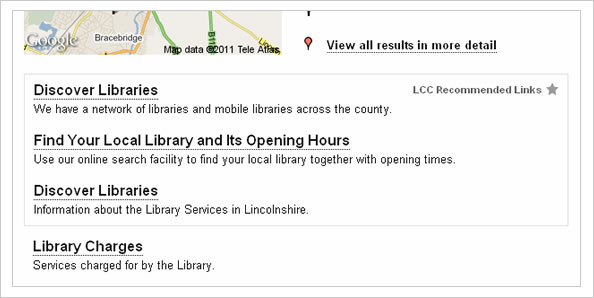 Widgets are another feature used by Lincolnshire. An example of a widget in use is on the 'Discover Libraries' section; within this section you can search by postcode (which the site will remember once set) to find your nearest library. These features help cut down the amount of clicks needed for the user to find the information they want.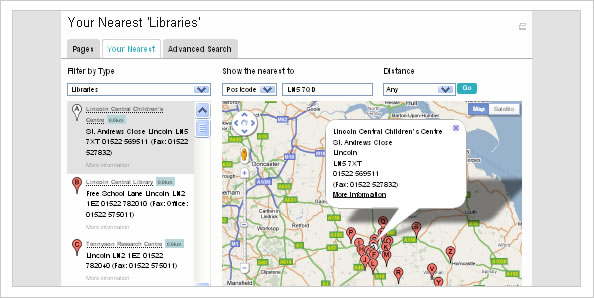 Have a look at the Lincolnshire site to see all of this in action. If you would like to know more about SOLR and ways we can help you meet your cost saving targets please contact us on 0207 766 9810.