Chartered Institute of Housing
We have worked with CIH since 2012, when we were awarded with a web development and maintenance contract.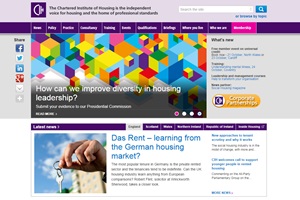 "Our new homepage is absolutely fantastic – it looks 100% better than we imagined. It is a true showcase of all the different elements of our organisation. The look is energetic and enticing – but most importantly is so much easier for our members to use, understand and navigate. It is already loved – and we have received great comments from our customers."

Josie Twinning, Head of Marketing and Communications.