Webvision Cloud – Customer Experience Management

Webvision Cloud is a customer experience management (CXM) platform bringing together the very best of our software into one; comprising a professional mobile-friendly website, an enterprise-class CMS and a market-leading audience engagement database – all in the cloud.
---
Key Benefits
Mobile-friendly Website
Webvision CMS
Audience Database (SCV)
Access Control
Professional e-Commerce
Subscription Management
An affordable end-to-end solution, designed for you
Webvision Cloud is a true Customer Experience Management (CXM) platform for organisations of all sizes that need to provide their audience with a relevant and engaging digital experience across all devices, at an affordable price. The platform comprises:
an elegant and versatile responsive website styled to deliver your brand with impact
a fully integrated, flexible multichannel CMS, as used by some of the UK's biggest publishers
access management and e-commerce options supporting digital products, purchasing and fulfilment
a comprehensive customer and subscription management database with the tools you need for campaigns and segmentation
a single customer view that includes transactional history and web usage behaviour
Intuitive and easy to use, controlled by you
Webvision Cloud's out-of-the-box functionality is highly configurable, so your new website can evolve to reflect the changing nature of your business model, without the usual associated programming and design costs. The flexibility of the platform allows the users to quickly react to the evolving commercial requirements by giving them full control of the content production, marketing and sales effort.
Revenue models to suit all publishers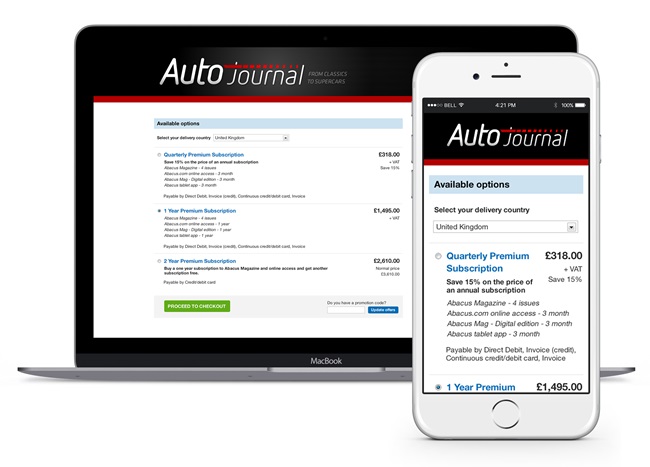 On-line subscription page
The flexibility of the platform supports a range of revenue generating business models – from paid content to advertising and sponsorship - to achieve a greater return on your investment, including:
paid subscriptions, both bundles and single items
display and classified advertising
digital and event sponsorship
creative marketing solutions (e.g. content marketing and native advertising)
Safe, secure and cost efficient
The platform is secure, low risk and low cost. There is no infrastructure requirement, nothing to install, and no need for costly IT staff to run it, as all technology and website hosting is in the cloud.
Rapid development and implementation
With our standard site set-up completion in roughly 6-8 weeks, our highly skilled and knowledgeable staff will advise you on the most appropriate site and configuration for your market and then train your staff to be totally confident in operating the platform. Our Webvision Cloud customer services team will be hand to help and advice you once your site is live. Learn more about our onboarding process.
Continuous development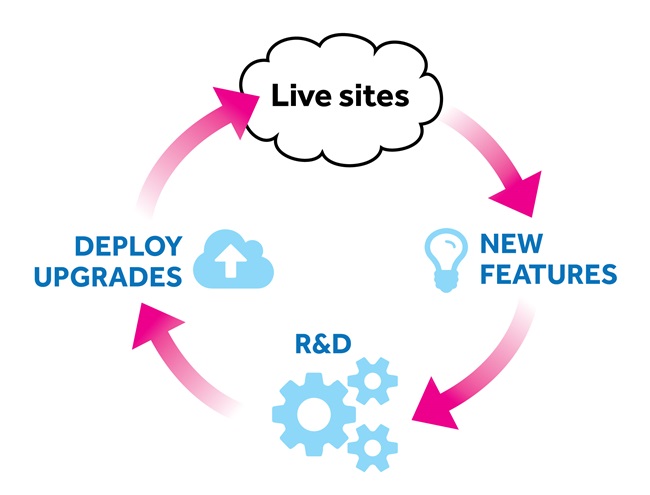 Continuous development cycle
Our software is continually developing and improving for the benefit of all of our clients. Adopting a SaaS platform allows for continuous and transparent upgrades, so you will always be running on the latest version of the software. And with its genuine scalability, there is a range of optional functionality that can extend your business easily and cost-effectively.
Controlling your Total Cost of Ownership (TCO)
Our ethos has always been to build flexible and adaptable technology that is fit for purpose, continuously evolving, and future-proofed. We will guarantee you a quality working digital platform and to support and evolve your site as part of a community of users.
Better value than other leading website solutions
If you are looking to replace your website, CMS and complement it with the essential customer management regime, we have a winning proposition. Allow us to prove to you that we can provide a risk free alternative to Open Source solutions (e.g. Wordpress, Drupal or Joomla), and let us help you identify the actual cost to your organisation, and help you build the business case to invest in Webvision Cloud today.
Webvision Cloud – Standard

Single website licence

3 seat licences

AWS hosting (24/7)

AWS – 20gb disk; <250k pageviews per month

Webvision CMS

Mobile-friendly website

Lucene Solr search

Google Tag Manager*

DoubleClick for Small Publishers*

Audience database and SCV module

Access control module

e-Commerce and subscriptions module

SSL certificate

Standard support package – 4hrs per month

Prices start at £2,500 per month

Professionally designed websites start at £20,000
Webvision Cloud – Pro

Everything you get in Standard, plus:

Multisite CMS licence – up to 10 websites

Up to 20 seat licences

AWS – 100gb disk; <2m pageviews per month

Up to 5 SSL certificates

API connector

Silver support package – 8hrs per month

Contact us for multisite PRO licensing

Contact us for multisite development discount deals
*Support for Google Tag Manager and DoubleClick for Small Publishers available - requires an active account for both of these services.
Please contact us for highly customised solutions built on our enterprise version of the Webvision CMS.