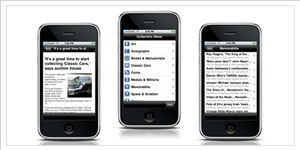 Pf iphone
The app – called Collectors News and available for download, free of charge, at the iTunes store – covers the twelve most popular areas of collecting, from Art & Photography, to Wine, Whisky & Spirits. The app delivers breaking news throughout the day, together with interviews from industry experts.
Paul Fraser Collectibles was started in April 2009 with the aim of providing daily news on high-end (over £1,000) collectibles across all the major collecting areas on a global basis. During the last year, the company has built up a strong database of collectors and is able to offer them interesting and unique investment quality collectibles with impeccable provenance.
"There are believed to be two hundred million collectors worldwide and this number will double in the next thirty years as people increasingly regard collectibles as a profitable alternative investment opportunity."

Paul Fraser
Delivering daily news to worldwide collectors is an ideal iPhone app – we can keep people up to date with constantly changing stories, without overloading them with information.  And if they do want more information, they simply visit our web site. I believe that we are the only company in our sector offering this type of service.
Having previously worked with Abacus e-Media on the development of a web site using the company's content management system, Webvision, they were the "obvious choice to create the iPhone app for us." Information is quickly and easily put onto the web site using Webvision, with readers in 185 countries, which in turn is then used to select and deliver the news stories for the Collectors News iPhone app.
Early reaction to the new iPhone app has been encouraging and Paul Fraser believes that there is considerable scope to extend its functionality, over time, to enable collectors to see stock for sale, and to make purchases. "Patterns with the collectibles sector to embrace new technology have increased exponentially. Collectors don't want to miss the news on upcoming sales or recent auction results, and the new Collectors News iPhone App delivers exactly this."