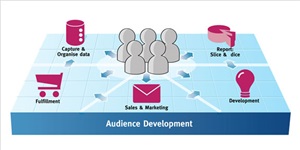 Ad graphic
To sell to these new audiences effectively, publishers need to know more about their customer base as a whole, across all brands and services as internal promotional channels are highly efficient, especially in niche markets. Enter the new discipline of audience development. Daniel Murphy of Abacus, shares five ways to use it to drive your business.cus, shares five ways to use it to drive your business.cus, shares five ways to use it to drive your business.
1. Simplify subscription sales and marketing
Marketing products and selling them on your website shouldn't be so difficult. For years, publishers have struggled to join up product and subscription sales (print, online, bundles, and now mobile/tablet) and present a clean set of options to the site user typically because they have different systems managing content and customer data for print, web and internet. We can all learn from the Retail sector how to sell products online. Just look at Tesco, they know who their customers are and what they are buying, and they make it easy to buy from their website. It's not rocket science!
2. Experiment to find the right digital access model
At some point in the near future, if not already, you are going to need to think about generating more revenue from your online content, and not many publishers know where the sweet spot is when putting up the paywall or registration barrier for their online content. Traditional time-based, incremental registration, metered access, PPV - flexibility is the key here. When selecting your technology partner, make sure they offer flexible access control models which let you experiment at will - don't get tied into a model which is really expensive to change - the chances are you won't get it right first time round.
3. Create a unified view of your customers
As a publisher, you should know who your customers are and what they are buying - sounds simple, doesn't it? But how many of you really know if the person going to your events is the same person buying access to your website and subscribing to an email newsletter? It's hard to find one system that natively handles all this audience and customer data, so choose a system which can unify disparate data sources into a single view and you should improve your levels of customer service and maximize cross-sell and upsell opportunities.
4. Develop your audience using analytics and insight
Your customers are at the core of your business, but what about all of the valuable audience data you are collecting around that core? Think about your website registered users and leads generated by marketing campaigns - these are your future customers. With the right database technology and business intelligence tools you can develop your audience based on trend analysis and insight across all brands, products and services.
5. Discover, develop and create new products
As the diagram above shows, once you have the above elements in place you can iterate through the lifecycle and drive your business forward, identifying new product development strategies based on analysing the data at your fingertips and turning your audience into new customers.
To illustrate this point, read this case study about Farmer's Guardian's online registration model.
ADvance, the audience development platform developed by Abacus, uses innovative cloud-based systems to create a unified view of your customers; collect valuable audience data; simplify the online sales and marketing experience, and analyse your data. The key advantage is that ADvance can run alongside your existing systems, without disruptive change, and does not involve extensive and expensive IT investment. The unified view of your audience presented by ADvance creates a powerful ability to explore habits, content consumption and customer value – and highlight the potential for new revenue opportunities. Abacus specialises in publishing solutions and offers a range of ADvance modules and services to suit your particular needs.