A world awash with data offers huge commercial opportunities for smart publishers who can pull this raw information together and transform it into actionable market intelligence for their customers.
prospect collage
Massively successful businesses have been created off the back of this model. However, the relative cost and complexity of building proprietary databases to manage and publish the data have often been limiting factors for publishers wanting to start out on that journey.
But thanks to the development of cloud-based technologies this is no longer the case. With the right tools in place, the cost-of-entry can be reduced to a level where the return on investment significantly outweighs the initial cost outlay.
Today, starting with data that can simply be stored and managed in spreadsheets or basic off-the-shelf databases, it is possible to build interactive dashboards that can deliver a wealth of valuable insight. Combine these dynamic charts and graphs with the ability to analyse and comment on the results and you have the foundations of a market intelligence product.
The Webvision Cloud Market Intelligence Platform provides just such a system combining the best-of-breed elements of the Webvision publishing platform with Microsoft Power BI's class-leading business intelligence tools. And with its in-built subscription and access and entitlement capabilities, the platform fully covers all aspects of market intelligence product development from presentation to monetisation.
Even well-established business models can benefit from this new approach. When specialist information, data and analytics firm Ascential was looking to redevelop its retail intelligence product, Retail Week Prospect, the Webvision Cloud Market Intelligence Platform provided a perfect fit.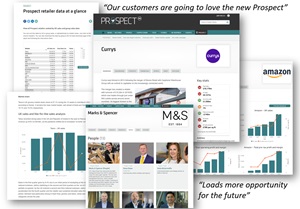 prospect 1
As part of its product development strategy, Ascential wanted to re-platform and update its Retail Week Prospect data and insight tool with a new look and feel. To give customers the benefit of gaining access to this rich data alongside Retail Week news, commentary and analysis, the project team took the decision to bring Prospect to sit alongside its Retail Week news and analysis site on the Webvision platform.
The new integrated Retail Week Prospect site offers an improved user experience for its retailer data and analysis that fits in and complements the rest of the site. A highlight are the data dashboards, created in Power BI, that automatically pull in key retailer data and metrics and visualise these in a meaningful way for Retail Week's customers.
By bringing both platforms together, Retail Week was able to raise awareness of the benefits of Prospect's rich data and analysis to its wider Retail Week subscriber base.At the same time, it replaced a difficult-to-maintain and costly legacy platform with state-of-the-art software that offers significant functional and performance improvements for Prospect's high-value corporate clients.
And because all of this was achieved using standard software and tools, the project could be delivered at breakneck speed without compromising Prospect's premium standards.
Lisa Byfield-Green, Research Director for Retail Week and Retail Week Prospect at RWRC by Ascential, said:
Our business model is all about putting the right information in front of the right audience. We see a big opportunity in being able to bring the Prospect and Retail Week audiences together, but up to now we were restricted by technical barriers. Thanks to the success of the project we are now well positioned to deliver our product development strategy".
Hanna Jackson, Managing Director of RWRC, said:
Prospect is a premium subscription product with users who have understandably high expectations. It was essential that we delivered on our promise of a new and improved service despite some very tight time constraints. Using tried and tested software meant we reduced our risk while enhancing our capability for rapid future development."