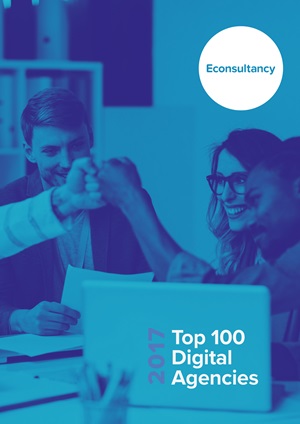 top 100 digital agencies 2017 report
The Top 100 Digital Agencies 2017 lists the UK's top 100 digital marketing, design & build and technical agencies. For the fifth year in a row, the rankings were based on the income they earned from digital media activities in the UK. For the purposes of the Top 100, income is defined as money that agencies retain from clients after any bought-in third-party costs, such as media, production or hosting, have been paid. Econsultancy has stated that they believe this is a better indicator than the overall turnover of what an agency's digital expertise is worth.
E-consultancy CEO Ashley Friedlein states that 'the strategic focus on CX has opened up numerous opportunities for agencies to deepen their engagement with clients. Agencies are embracing the customer experience battleground by providing clients with new platforms, service design, and delivery as well as continuous improvement services. Digital transformation is now firmly the remit of marketers, highlighting the new opportunities for agencies to engage with their clients but agencies may increasingly lose out to the big consultancies in winning large digital transformation work.'
To be placed in the top 100 against the industry's finest is a great achievement for Abacus. This year, Abacus has continued to grow and help our clients deliver and manage the customer experience. Not only did we place in the Top 100 (position 79), but we also placed 19th for the Top Agencies in the Design & Build category.
2017 has been an exciting year for us with the rapid and accelerating adoption of our cloud Customer Experience platforms and our consolidation as a market leader in this field. We are excited by the prospect of the new GDPR legislation coming into effect in 2018, and see this as a great opportunity for us to help brands become not only compliant but highly competitive within their markets as they seek to develop trusted relationships with their audiences' and continue to deliver great products and services.
We would like to thank Econsultancy for all their work in compiling this table and report, and we look forward climbing the table in 2018!
Full details of The Top 100 Digital Agencies 2017 can be download from the Econsultancy site.