The Top 100 Digital Agencies 2013 lists the UK's top 100 digital marketing, design & build and technical agencies. These are ranked on the income they earn from digital media activities in the UK. For the purposes of the Top 100, income is defined as money that agencies retain from clients after any bought-in third-party costs, such as media, production or hosting, have been paid.  E-consultancy and NMA believe this is a better indicator than overall turnover of what an agency's digital expertise is worth.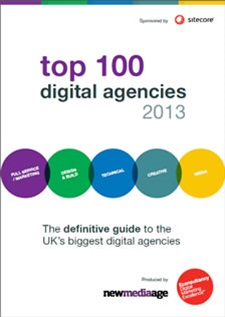 Top 100
E-consultancy CEO Ashley Friedlein states that 'agencies remain the foundries of ideas which forge much of the success which makes the UK a global leader in digital and e-commerce.' The report this year focused on the rapidly changing landscape of the industry, with digital becoming more and more prominent in everyday life, and the importance for agencies to keep on top of this evolution. To be placed in the top 100 against some of the industry's biggest companies is a great achievement for Abacus. This year, Abacus has continued to grow and evolve to keep up with the ever-changing industry.  Not only did we place in the Top 100, we also placed 24th for the Top Agencies in the Design & Build category.
2013 has been an exciting year so far, with ADvance, our audience development platform, really taking off. Centaur Media, parent owners of E-consultancy, became our first client live on the system with well-known titles such as Marketing Week and The Lawyer. The list of clients signing to the platform has been growing substantially since the beginning of the year, giving us momentum and drive going forward into the second half. We've also had some exciting international prospects and projects, with two currently in development in the US.
We would like to thank E-consultancy and NMA for their work in compiling this table and report, and we look forward to improving our position in 2014!
Full details of The Top 100 Digital Agencies 2013 can be download from the Econsultancy site.