The prestigious awards celebrate digital excellence in the magazine and business media industry. This honour demonstrates the strength of the platform to manage multiple forms of subscription bundles that drive recurring revenue growth.
In the last year, the ADvance platform has allowed Aspermont to automate several day to day processes across the business operation and accomplished remarkable results for the Aspermont subscriptions team. They have achieved a 25% growth in the number of subscribers and 40% growth in revenue. ADvance also gave them the confidence to move their oldest publication (180 years old) onto a subscription-based model for the first time in order to monetise on its digital content. The platform has now been rolled out to their publications in Australia and Brazil.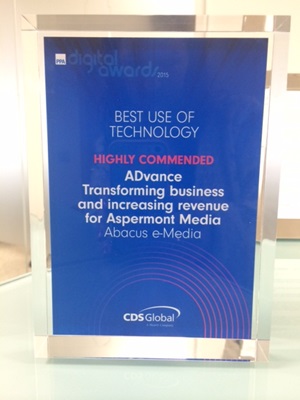 Advance
ADvance is now driving recurring revenues for a diverse range of publishers and content owners across the industry, including Bauer Media, Centaur Media, Conde Nast, Christie's, Datacenter Dynamics, Ocean Media, Media Business Insights, Royal Pharmaceutical Society, The Law Society, and Telegraph Media.
We would also like to congratulate all of the winners, which a special mention to our clients
TEAM LEADER OF THE YEAR
Gemma Mendham, Cogora
OUTSTANDING DIGITAL TALENT
Lizzie Fuller, EMAP
Read more about Aspermont's success using ADvance.
For more information on ADvance, download our brochure or get in touch