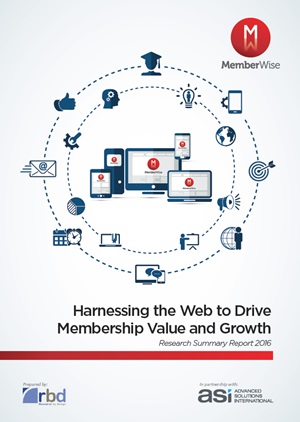 harnessing the web report 2016
Memberwise's annual Harnessing the Web 2016 report shows the continued focus on digital transformation throughout the sector, as your members continue to expect an engaging interactive and value-driven online experience.
Abacus will be at Stand 4 to discuss how our technology and services can address the report's top 6 findings and enable our clients to create highly tailored digital experiences for their members. If you are attending this event, why not stop by and say hello, we'd love to talk to you.
The top key findings of the report were:
Sector focus is on increasing member engagement; this is the top goal for 2016
A greater proportion of organisations are experiencing increased membership and engagement, though believe that members are not recognising an increase in member value
As in previous years, the key challenges in the sector are the inadequate integration of membership management systems (CRM/databases) and websites (CMS), multiple databases and data silos, and the measurement of member engagement
Websites are typically structured by function or department rather than by audience
There is a general recognition that members expect a high level of self-service
Just over half of organisations claim their web pages are automatically rendering to the size and type of device being used by website visitors
The membership and association sector is waking up to the fact that future long-term member value and growth requires a deeper focus on online membership experience and engagement rather than an infatuation with short-term new member acquisition. This report identifies that we have arrived at a tipping point and the sleepwalking is beginning to stop."

Richard Gott, The Memberwise Network
The report is available to download on Memberwise's website and will be available in print at the Harnessing the Web 2016 conference, the national conference for professionals who are looking to increase online membership value and growth for their membership organisations or associations. The event will take place on Wednesday 4 October at the Victoria Park Plaza Hotel in London.