Webvision Cloud is a Digital Experience Platform (DXP) for organisations of all sizes that need to provide their audience with a relevant and engaging digital experience across all devices, at an affordable price. The platform's comprehensive access management and database capabilities allow Compliance Week to collect valuable user information over time, giving better insight into their audience. This will allow them to simultaneously engage with their audience by being able to deliver highly personalised and targeted content, marketing and advertising across all devices, as well as provide new opportunities to grow digital revenue streams.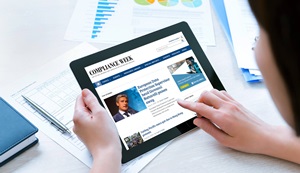 Compliance Week is located in Boston, Massachusetts, with correspondents and columnists in Washington D.C., Chicago, London, Brussels, Hong Kong, and elsewhere throughout the world. Founded in 2002, Compliance Week has become the premier GRC resource for public companies and the organizations that support them. The magazine, website, newsletters, and live and virtual events are leveraged by tens of thousands of financial, legal, audit, risk, and compliance executives.
What you can expect from the new website
We're not calling it a Website "redesign," because it goes much deeper than that. It's more of a digital replatforming that will give you the tools to deliver more of the content you want in a much cleaner, more organized format and optimized for whatever screen you happen to be on. Read more
Outstanding new site/platform! Congratulations to the entire team at Compliance Week on a job very well done!"

Donna Rice
At Abacus, our mission is to help brands and communities grow revenue and engagement with personalised offers and experiences. If you are looking to upgrade your website, CMS and complement it with a fully integrated audience management database, we have a winning proposition in Webvision Cloud. For more information, please get in touch.