This has forced organisations to quickly rethink, in some cases their entire business models, including creating new products and services, in order to better support their customers and communities during the global pandemic.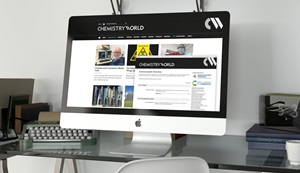 chemistry world home office
Community support was at the forefront of the Royal Society of Chemistry's thinking when they considered how they could assist the global community of chemical scientists and chemical science organisations. This included direct support for the welfare of chemical scientists through its Chemists' Community Fund and a package of support for SMEs and schools. The RSC also sought to strengthen its partnerships with sister chemical sciences societies across the Commonwealth through its work with Commonwealth Chemistry. 
Chemistry World Magazine provides high-quality research, news and views spanning the chemical sciences and serves a large global digital audience of nearly 4 million users a year. Using Webvision Cloud, it operates a metered access model providing articles, podcasts, webinars and video content to the RSC membership as well as subscribing institutions and individuals worldwide. The RSC saw an opportunity to extend unlimited access to its flagship magazine to the memberships of chemical sciences societies that form Commonwealth Chemistry. 
Publisher Adam Brownsell explains that "the key was to be able to act quickly, and to ensure the assistance we were offering was easy to implement and use so that our sister societies could immediately benefit from access to our content during this time of crisis." 
This was where Webvision Cloud's flexible gating and access controls gave Chemistry World a head start. "With a bit of advice from Abacus' Innovation team, we were able to rapidly introduce a new gating regime that would allow free access to any member of a society within Commonwealth Chemistry. It meant we were able to reach out quickly with a simple proposition that was easy to communicate to target audiences. It's another example of how the Abacus platform allows us to respond to events quickly and efficiently – whether that's to explore a new commercial opportunity or to respond to an unprecedented pandemic that put large parts of our community under enormous strain." 
"We saw uptake across Commonwealth Chemistry societies straight away," says Adam "followed by strong patterns of usage and engagement with our content and additional services, such as email products and further communication with the RSC." Throughout the pandemic, Chemistry World has seen increased traffic, registrations and engagement with its content, helped by the magazine making all its content on coronavirus free to access. "Our business model has enough resilience for us to be able to offer this high-demand content for free to everyone who needs it", says Adam "and it's appropriate that along with the rest of the RSC, our magazine can do its part to support our community any way we can." 
Of most importance is the "flexibility for us to create meaningful products quickly, with any kind of access model we require and get them in the hands of our community quickly," Adam explained.
I don't think any of this would have been possible without the technology provided by Abacus nor without the willingness of everyone involved to get stuck in and help us, and our community, adapt and thrive in our new 'normal'." 

Adam Brownsell, Publisher
Our ethos has always been to build flexible and adaptable technology that is fit for purpose, continuously evolving, and future-proofed. Since the start of the global pandemic, our platforms have been able to assist our clients to quickly adapt to the changing environment to transform their business models to better serve their customer base. 
To learn more about our platforms and how they can help transform your business model, please get in touch or request a demo.