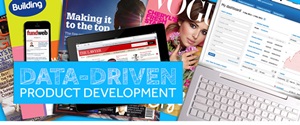 Data Driven Product Development banner
A recent study showed that 66% of marketers were overwhelmed with the volume of data available to analyse, but would happily consume more if they were able to see it all in one place and join up the dots. This is because the majority of the time their data is stored in separate databases, with limited or no capability to bring all of this together to create a complete customer view of their audience. With this data, marketers will have the ability to rapidly develop new digital products and bundles (print and online) and execute highly targeted marketing and renewal campaigns to their audience.
ADvance, our innovative audience development platform, is designed to support all aspects of modern multichannel publishing. It combines the core functions of traditional subscription and circulation fulfilment systems with end–to–end product management and e-commerce into a single web-based platform. The fully integrated audience database provides a complete customer view of a customer record allowing for the collection of detailed demographic data to identify specific behavioural patterns, which is perfect for detailed audience segmentation. This permits a true data-driven product development cycle where real-time metrics captured from online and offline customer transactions allows for the rapid development of new products.
Ian Eckert, Managing Director of Audience Development for Abacus, recently presented at both the PPA's Customer Direct & Briefing Media's Media Marketing Strategies conferences on the topic of Data-Driven Product Development. In his presentation, he discussed the importance for marketers to have a comprehensive understanding of their audience in order to drive product development, demonstrating how our clients do so using our ADvance platform.