The design team at Abacus worked closely with the Art Director, Editor and Web Editor at Drapers to translate the new magazine design into a look and feel for the website.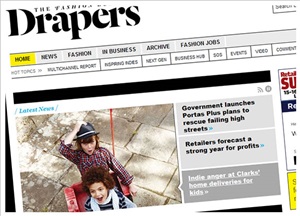 Drapers large
The site's design is radically different from the last incarnation of Drapers, and it is a testament to the way the site is built and controlled using Webvision that the re-design could be achieved within a tight deadline. It was vitally important that as the new magazine hit the shelves, the website reflected the change in design.
The site also has the latest Webvision layout controls - SPIN2 - allowing Drapers to re-launch with a new home and section pages, showcasing their content in exciting new ways.
We look forward to hearing how the Drapers subscribers like the new site.