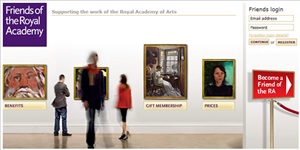 Royal Academy of Arts
Abacus was thrilled to be working with the Royal Academy of Arts, which was founded in 1768 by George III and was the first institution in Great Britain devoted solely to the promotion of the visual arts.
The microsite – sitting off the main Royal Academy site – had to retain the brand values, encourage sign-up and membership as well as allow existing members to sign in to their own area.
Reema Khan, Deputy Director of Development at the Royal Academy:
"The proposed designs from Abacus were very creative and forward thinking, and showed very clearly how well they had done their research and really grasped the essence of the project.  The design had a strong contemporary feel, whilst retaining a good brand association with the main Royal Academy site."
The site has been positively received and the number of Friends signing up to become part of the online community is encouraging.
Further developments to the microsite will allow the Royal Academy to track the specific areas of interest of the Friends and then respond to these, to offer forums and blogs, and to interface to the main CRM system.