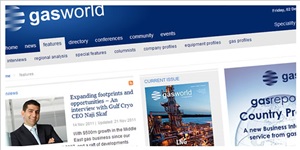 Gas world
Gasworld has been re-designed and re-launched by Abacus. The new site is powered by Webvision, our market leading content management system, and Marketplace, our digital directories technology. Our Websubs technology is used for online subscription management and access control, and Dispatch for email broadcasting.
Webvision and Marketplace work together to provide a range of packages for companies to choose from, each with different levels of value and reach. Depending on their chosen package, company directory listings can display rich content, full-page branding, images, attachments and video.
Gasworld needed a reliable CMS platform and technology partner to take the business forward having relied in the past on bespoke technology and contractors. They had clear commercial objectives to expand the site advertising inventory; improve company directory functionality for users; better promote their industry events, and integrate subscription fulfilment activities.
The project was delivered on time, to budget and the client is delighted with the end result:
"Throughout the design and build of our new website Abacus have been professional, patient and supportive. The technical, commercial and editorial advice we have received means we have achieved a result the gasworld team is very happy with and proud of.

"The new website puts us head and shoulders above our competition and gives us the opportunity to explore a host of commercial possibilities that were previously unavailable. We are continually impressed by the capabilities of Webvision and look forward to maximizing its potential in the future.

"Thanks to the expertise of the Abacus team, who have overcome many obstacles during the process, gasworld is entering 2012 with a cutting-edge technological platform to move the business forward."

Jon Evans, Production Manager
We wish Gasworld every success with its new site.