Grow with the flows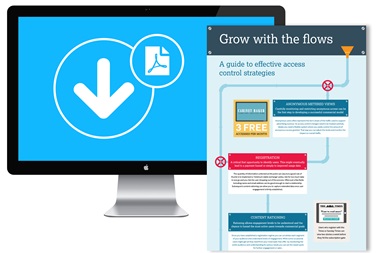 As digital business models based purely around traffic and advertising inventory come under increasing pressure, more and more content providers are looking to develop or enhance alternative revenue streams. In many cases, this means putting up the barriers and implementing access control strategies.
Effectively delivered content gating is a powerful tool for driving engagement, delivering valuable user data and ultimately monetising an audience. But there is no one-size-fits-all model – instead, there are multiple options to consider and test from metering and hard paywalls through to data exchange and membership models. And these approaches can often be mixed and matched across your customer base to produce optimum take-up.
Success is all about creating highly effective user journeys and conversion funnels. And to achieve this you must put the right plumbing in place to route each member of your audience down the flow that will work best for them. So here's our guide to constructing the right pipework.