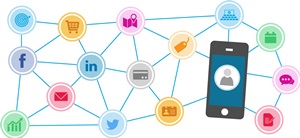 Customer Experience Management
Improving customer experience is emerging as the key objective for businesses as they strive to improve all aspects of the customer relationship to increase their sales, revenues and profits. Given it is 6 to 7 times more expensive to attract a new customer than it is to retain an existing one, ensuring that you have the right strategy encompassing all your customer interactions is essential to delivering ongoing audience engagement and loyalty. The big challenge for organisations is to not only understand who their customers are and what they need, but also to have the right technology in place to deliver on these expectations at the right time, in the right place and format.
But what is customer experience? According to Gartner, the customer experience is defined as the "customer's perceptions and related feelings caused by the one-off and cumulative effect of interactions with a supplier's employees, systems, channels or products." Managing the customer experience (CXM) involves understanding how your customers interact with your brand and reacting to their activities to improve the experience to nurture the customer lifecycle.
The relationship between an organisation and its customers involves a great deal of understanding and trust. As competition for your customers' attention continues to increase in today's digital landscape, being able to truly understand who they are and what they want is becoming even more critical to ongoing success.
The Customer Journey & Perspective

User journey
A good place to start is to place yourself in the shoes of your customer. After all, we are all at some point in the day a consumer interacting with different brands across multiple touchpoints. As customers, we all return to do business with brands that we trust. And when we've had a good or a bad experience (Southern Rail take note) we have undoubtedly discussed it with our friends, family, colleagues and possibly the wider online community (reviews, comments, social media, etc).
A bad customer experience often has far more influence on brand perception than a positive one (United Airlines is recent example). And it's more likely to be shared with surveys demonstrating that consumers are becoming less tolerant of poor customer experiences. But receiving a bad review, doesn't have to be an entirely bad thing – rather it's an opportunity to help you analyse and improve your strategy.
Two bad experiences I recently encountered (companies will remain anonymous), featured disconnects between the data and the technology provided to the end user. The first was an offline experience that involved ringing a call centre to resolve a minor issue. The problem was I had to call six different times to different departments, and each time it took the operator roughly 30 minutes to find my data to resolve the issue. Having a centralised database with shared access across the organisation would have resulted in a slicker resolution to my problem - and a lower admin overhead for the company concerned!
The second involved trying to make an online purchase where the technology didn't provide the end user with the appropriate functionality. The site stated that it shipped items around the world, which is common in today's global economy. But it wasn't until after registering for the site and inputting a UK billing/shipping address that the site informed me that it did not have the capability to process cards with billing addresses from outside the USA. Yet the software could have automatically figured this out based on my IP address before I had wasted my time.
So how can such pitfalls be avoided?
Understanding the perspective of your customers is essential and needs to be the focal point in building the experience delivery strategy. Mapping out the customer journey and identifying the multiple touchpoints where they would engage with your brand during any of the three phases of the customer experience - discovery, conversion, and ongoing loyalty - is a crucial first step.
The touchpoints can take several forms, both on and offline, and involve many different parts of the organisation. For example in a B2B information company, they can include the initial audience engagement that drives the buying process (eg e-commerce), through to the information and service delivery experience (eg the website), to the subscription or membership renewal procedure (eg e-mail marketing or account management) and might include a customer service centre. Properly mapping out this information will help you to visualise the different journeys your customers take to achieve their end goals, and determine if you are meeting their expectations. It can also identify pain points which would damage the experience and work out how to resolve them to drive loyalty.
Investing in the experience

Invest in the experience
Customer experience management (CXM) is just like any other business strategy, requiring a significant thought and judicious investment to ensure overall success. Identifying points along the journey, realising the pain points and identifying what can be improved is only the first step in the process. Ensuring your technology platform can collect customer data along the journey and leverage that information to deliver a seamless and personalised experience for your audience is equally important.
Writing in InPublishing, my colleague Ian Eckert stated 'we have to stop seeing our audiences as a homogenous mass and instead start to look at them as complex, highly-segmented entities with each segment having very specific needs that do not always overlap as much as we would like.' This statement has become increasingly relevant, as personalisation has become a key driver behind a successful customer experience strategy implementation. Audiences today demand services focussed on their needs. But you can't achieve this if you don't properly understand the client you are dealing with. Joined up data is key.
The right technology will allow you to free the audience data you have collected from your different information silos and bring them together to create a single customer view. Gathering this data in one place can help you understand not only how your customers interact both directly and indirectly with your brand, but build comprehensive individual profiles that make it possible to provide a highly personalised and engaging customer experience. This can include multiple streams, such as delivering highly targeted news feeds or customised advertising and marketing messages. Such initiatives help to build and reinforce engagement over time, driving conversion, retention and loyalty rates. Crucially as your audience continues to evolve over time, technology must allow you to easily adapt your business model to reflect their changing needs. Once your data shows you a new need emerging you need to move quickly to provide the relevant service.
How we can help

How we can help
Delivering the best customer experience for your audience relies on appropriate technology. Our platforms have an embedded customer experience functionality that can help provide a personalised and engaging digital and offline experience, across all devices, to your audience. Over the years, we have seen our platforms improve the customer experience for our clients in their respective markets, resulting in improved business results such as:
To learn how our platforms and services can help your organisation to deliver and manage the customer experience, pleaseget in touch..