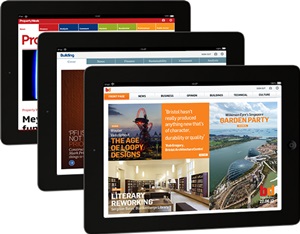 UBM
The app, developed for the Built Environment division, launched with Property Week, followed by Building and finally Building Design.
The apps have been designed and developed by Abacus using the latest HTML5 techniques and allow offline reading of the app, by caching all the content. Innovative sponsorship and advertising options have been developed specifically for this new medium.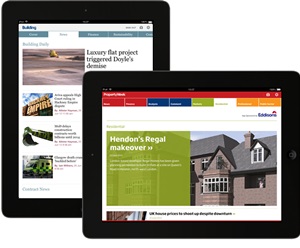 UBM
The content is managed and delivered by the Webvision CMS, that also runs the web and mobile sites of Property Week, Building and BD Online. This allows UBM to create the content once and utilise it across the websites, the mobile sites, iPhone apps and now the dedicated tablet app.
As with the websites, UBM has total control over the app navigation and content layout and presentation through the Webvision SPIN functionality, allowing each app to create its own structure and pace.
The user can swipe between stories, giving a magazine-like reading experience, share stories on Facebook and Twitter, and save stories to a 'briefcase'. The apps are all hosted at the same URLs but using device detection, users are presented with a different online experience to the brand depending on whether they are using a desktop, smartphone or tablet device.
Access control is also managed centrally using our gatekeeping technology so UBM can now create subscription bundles and manage the access regime for each delivery option or individual subscriptions for each product.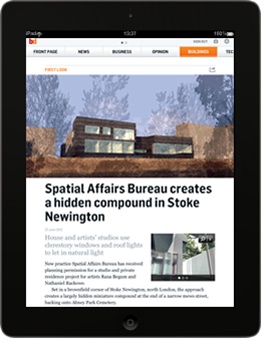 UBM
Abacus is really excited about this new development built on the Webvision CMS platform as it allows publishers to manage all delivery channels via one CMS, and gives the editorial and production departments genuine control over the user experience for each delivery mechanism.
This approach has attracted considerable coverage as it provides publishers with a single system solution for all digital content delivery.
http://www.themediabriefing.com/article/2012-06-14/B2B-publishing-print-to-tablets
http://blogs.pressgazette.co.uk/wire/8984
http://www.ppa.co.uk/news/industry/ubm-launches-a-trio-of-apps/
"These apps are a natural extension of our digital platform strategy following our roll out of mobile sites and iPhone and iPad apps for the UBM BE media brands in 2011.

"We're delighted with the HTML5 format of the apps which offers great usability for our customers and, as opposed to a native application, enables us to seamlessly maintain our direct relationship with them."

Phil Clark, Digital & Audience Director at UBM BE