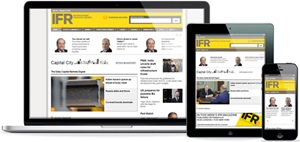 International Financial Review
Powered by our Webvision CMS and utilising responsive design, the site now offers a 'mobile-first' experience. The site automatically adapts to the screen size of the device, offering an optimized user experience across mobile, tablet and desktop. Changes to the navigation makes it easier for their readers to access the content they want, adjusting from a mega-dropdown menu to a simple linear menu on mobile and tablet, allowing access to multiple depths of content. This site utilises traditional responsive design techniques – CSS media queries and flexible layouts – making it possible to run one website that adapts beautifully to the device type and screen size.
Webvision has a unique flexibility which allows editors complete control over the presentation and placement of all content on the landing pages of the site. Publishers have the ability to create, edit and manage different versions of content for each channel (web, mobile, tablet and print) which is controlled through a single workflow. The system is flexible, allowing pages to be integrated with third-party feeds and widgets alongside your own content providing a rich user experience. The access control technology gives our clients the tools they need to identify and lock down content and try out different access models.
IFRe has been the world's leading provider of global capital markets information for over 35 years. The website and weekly magazine is widely regarded as the world's most trusted in-depth source of news, views and opinion for global capital market professionals. IFRe is owned by Thomson Reuters, who have been working with Abacus since 2004 in the UK, USA and Far East.