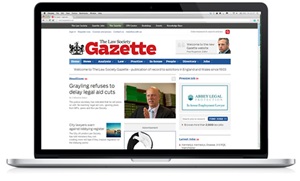 Law Society Gazette
The main website is powered by Webvision, our market leading CMS, utilising SPIN template technology.  SPIN functionality provides system users full control on the layout of the landing pages and allows non-technical users to easily change the focus and pace of the pages. This reduces the overall page depth by creating more compelling pages with a higher impact. Webvision supports genuine multichannel publishing, where the ability to create, edit and manage different versions of content for each channel (web, mobile, tablet and print) is controlled through a single workflow. LSG will soon be launching a new web app, an optional product for all subscribers to access the magazine through their tablets, which will be managed through Webvision. LSG has also chosen to implement Dispatch, our email broadcasting platform, to manage alerts and newsletter distribution.
The online registration process and subscription are powered by ADvance, our cloud-based audience development platform designed to support all aspects of modern multichannel publishing. Using the gate-keeping functionality, LSG will be able to capture detailed information about their audience – such as job type, country of residence and/or subscription information – that can be used for audience segmentation. This gives them the ability to gather relevant information of their audience needed for effective marketing purposes, which will be essential for LSG's long-term plan of cutting down print costs and driving digital growth.
The Law Society Gazette is the weekly trade magazine published by the Law Society of England and Wales, which represents over 144,000 solicitors.  The magazine was launched in 1903 for members of The Law Society to provide information about professional issues affecting solicitors. Today, it continues to provide the latest top quality legal news and analysis for solicitors, barristers, trainees and aspiring lawyers.
Webvision and ADvance provide a compelling combination of technology for member organisations and institutions because they share common challenges and commercial goals with their traditional business media counterparts – a market that Abacus' technology has been successfully serving for over the last 20 years.