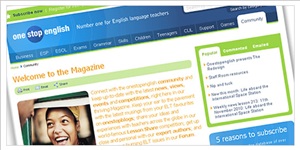 Ose
This is the third site to launch on Abacus' Webstructure.NET platform.
One Stop English is the number one destination for English teachers. The site is packed full of teaching resources for all age groups, and includes suggested lesson plans and activities, approaches to teaching grammar and much, much more.
The whole site has been revolutionised with a fresh new design along with improved navigation, a mega drop-down menu and a new search function using SOLR which offers faceted filtering. It is now much quicker and easier to find and identify content. The site also features an increasing number of social media elements such as a brand new forum and the ability to comment on and rate resources. See here for the full details of the redesign.
The website has a large following and a strong sense of community amongst its users. The popularity of the site can be seen on One Stop English' Facebook page, with comments including 'Thumbs up!' and 'Fantastic change!'. These are very encouraging comments for One Stop English, who is delighted with the results so far. We will keep you posted with their progress.