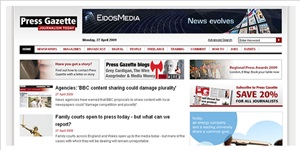 Press gazette
Acquired by Wilmington Business Information (formerly Wilmington Media) at the end of 2006, Press Gazette has recently gone through a complete rebranding exercise, which has also seen the re-launch of the print publication as a monthly instead of weekly title. The new website is now the primary source of information delivery and sharing for journalists, incorporating breaking news, blogs and discussion strands, whilst the print publication plays a more supportive, complementary role, providing the space for in-depth analysis and commentary on major themes affecting the profession.
Traffic on the website has increased considerably since its launch, attracted by the many new features, including the journalist blog aggregation service.
The new site was based on Abacus' Webvision product, which provides a robust platform for both online and print media, and integrates easily with other specialist third-party applications. The solution for Press Gazette also includes a number of other Abacus-developed modules for such activities as advertising management (Advision), email distribution (Dispatch), image processing (AIPS) and a survey and voting software facility.