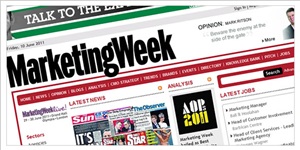 Marketing week
The award was handed out at a packed ceremony at The Roundhouse in London where Marketing Week, owned by Centaur Media, triumphed over stiff competition.
AOP judges said:
"The Marketing Week website stands out for its rich and broad-ranging content, clear navigation and design. It doubled its audience during difficult times."
Congratulations also go to Farmers Guardian for being awarded Highly Commended in the same category.
This is a great recognition for our clients whose websites were designed by Abacus and powered by our content management system - Webvision.
This is the second time in the last three years that a Webvision-driven site has triumphed at the online media industry's 'Oscars' with TES Connect taking the honours in 2009. And there are high hopes of further gongs next week when no fewer than five Webvision sites have been shortlisted for best business website at the PPA awards.
Commiserations to our other clients who were shortlisted, fingers crossed for next year!