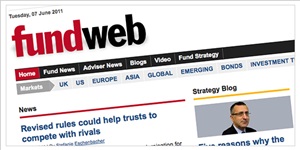 Fundweb
Abacus worked with Fundweb to create a fresh new design for the site. Much effort went into understanding how the users want their information presented. The result is a site with a cleaner appearance and simpler navigation.
A significant change is that Fundweb has teamed up with Financial Express Trustnet, which is a key source of information in the financial industry. The site integrates fund data research from Trustnet to provide the users with links to factsheets, manager profiles and performance data. This allows the users to do more of their own research, rather than relying on the claims of others.
Related links are added by editors at point of story creation and Centaur uses an innovative predictive search technique within the Webvision CMS to select relevant content from the Financial Express Trustnet database.
The client is very happy and we wish Centaur every success with the re-launch.