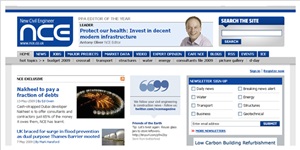 Nce large
Based on the company's Webvision digital publishing solution, Abacus has also integrated Autonomy's IDOL  product to provide intelligent contextual search and retrieval capabilities, and Madgex for comprehensive job opportunities.
The latest version of Webvision (v3) ensures that the new NCE site can be quickly and easily changed to allow the content to be presented in a variety of different and flexible formats. 
Abacus' Dispatch product handles the management and distribution of emails, including the range of newsletters to which readers can subscribe – including daily news, plus a number of market-specific updates such as Water, Transport, Energy and Geotechnical. 
Part of EMAP Inform, NCE has a circulation of 55,523 for the printed magazine.  The website attracts more than 45,000 unique visitors each month, and has over 250,000 page impressions.