After an initial business consultation and user feedback exercise by thomsonlocal.com, we worked with the project team to create a new look and feel as well as two distinct homepages to enable thomsonlocal.com to perform multivariate testing at launch.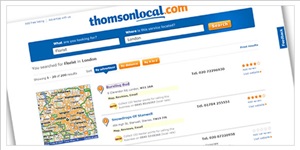 Thomson local
Jody Willis, Head of Design at Abacus explained:
"Over time the old homepage had become too crowded and the search feature had become lost. It was paramount to simplify the page and make 'search' the most prominent area of the page.

"We explored various designs with the thomsonlocal.com team at workshops twice a week, until a final design was settled on. It was really enjoyable working with the business this closely as feedback was almost instant and progress was rapid."
The design workshops focused on the information architecture as much as design to optimize key page usability and the overall user experience (UX).
Two final designs were taken forward by thomsonlocal.com to be programmed and implemented; one with just a search and another with more leading content. Over the next few months, these will be evaluated on the live site to determine which approach is more successful at driving site usage.
The search results pages are now being developed and we look forward to the full user experience coming online soon.