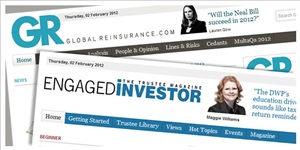 Newsquest large 2
Our challenge was to redevelop 5 well-established websites, with strong individual brands while keeping costs to a minimum.
The key to the success of this project, where cost and time were key factors, was architecting a platform with common frontend functionality coupled with a design approach that could easily be leveraged across the different brands, thus providing a blueprint for rapid deployment. The Webvision platform model is a proven way of achieving scalability, reliability and cost savings, while at the same time increasing editorial ownership and productivity.
Alongside upgrading Webvision from v2 to v3, we implemented our eVision event publishing technology for creating fully integrated sub-branded microsites for each event (conferences, awards, exhibitions) running under the parent brand website. This gives the Newsquest events team control of their online marketing and more importantly, they do not have to rely on web production staff to update vital site information such as sponsor details, speaker profiles, and the conference agenda. Newsquest's portfolio of events will now benefit from the many cross-sell opportunities brought by embedding each event into their respective editorial communities.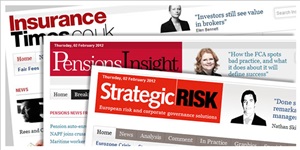 Newsquest large
Newsquest set a number of objectives for this project to gauge the measure of success, which we are pleased to report have been met and in some cases exceeded. These included growing unique users; creating more user engagement per session; and increasing digital subscriptions. Webvision sites are constructed with SEO optimization built-in which helps drive organic traffic growth, and the content layouts and intuitive sign-posting around the site promote increased dwell-time and site usage.
Insurance Times Magazine; a weekly UK publication from Newsquest Media Group widely read by insurance brokers and insurance company staff alike.
Global Reinsurance; the leading brand for the international insurance and reinsurance industry, with editorial based on expert knowledge of the sector and the issues that influence it.
StrategicRISK; an indispensable business tool for their rapidly expanding community of risk managers and senior decision makers across Europe.
Engaged Investor; the only magazine dedicated to pension fund trustees, covering the issues that affect trustees and helping them understand complex investment and governance related issues in a jargon-free way.
Pensions Insight; Authoritative analysis of the key news events that matter to the pensions industry, and insight into the impact of capital markets, politics and economics on pension schemes.