Webvision client EMAP has once again proven the strength of the platform, with their leading UK nursing brand Nursing Times winning the coveted category of Best Website of the Year, beating none other than the Telegraph Media's telegraph.co.uk to the main prize!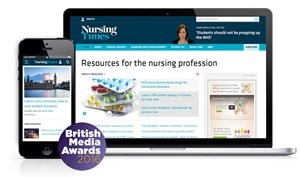 nursing times website of the year screens
This follows the recent responsive upgrade project that Abacus completed for EMAP (part of the Ascential Group) which transformed fifteen of their websites, including Retail Week, MEED, Drapers, and Architectural Review, to strengthen their digital strategy and provide a mobile-first experience for their customers.
Congratulations also to Plexus' Architectural Review and Retail Week for picking up silver awards in their respective categories. And to Centaur Media's Money Marketing for winning Financial B2B Title of the Year at the 2016 Headlinemoney Awards.
Well done.