The latest innovation from Ocean Media is the development of the new whitebook.co.uk website incorporating a comprehensive and powerful event industry search engine. With more than 400 categories and over 14,000 individual listings, whitebook.co.uk has already been very well received by the event industry.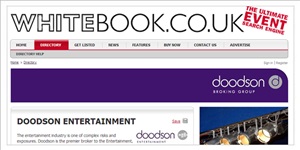 Whitebook big
The White Book print directory has been the industry leader for over 27 years covering a wide range of event production suppliers, from event access and security to concert and corporate event organisers. The overhaul of whitebook.co.uk provides quick access to suppliers using the integration of Autonomy's IDOL intelligent search solution. Companies, Agents, Artistes and Attractions across the industry can take advantage of Premier, Platinum, Gold and free packages to showcase their products and services. The most prestigious packages include full-page branding, embedded video, pictures and attachments.
Designed and developed by Abacus, whitebook.co.uk, is based on Webvision v3 and Marketplace Directories, with the Autonomy IDOL platform being used to index and retrieve relevant records. Search criteria can then be filtered so user experience is straightforward and intuitive when navigating through such high volumes of data.