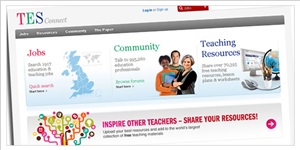 Tes ppa winner
For the second year in succession Abacus clients dominated the category with TES being one of five shortlisted sites to run on the Webvision content management platform.
But that wasn't the end of Webvision's success at the publishing industry 'Oscars'. Screen International's Conor Dignam, who was the editorial driving force behind the implementation of Webvision across the EMAP portfolio, was named Publisher of the Year.
Meanwhile, TES' sister title, Times Higher Education, won Business Media Brand of the Year, with judges highlighting its multi-platform approach and commending the success and international reach of its website.
Last night's success stories follow just a few days after Marketing Week was named best business website at the prestigious AOP awards, meaning that Abacus clients have taken the industry's two top accolades.
Abacus' Managing Director Steve Feigen is delighted by the success of so many Abacus clients. He said:
"The range and diversity of Webvision-based sites seen in these shortlists show the flexibility of our platform. Of course it's really the creativity and energy of the publishing teams that win the awards but we are proud that so many of them choose our technology to help."