In 1896, Henry J Heinz came up with one of the all-time great marketing coups when he introduced the slogan '57 Varieties' to describe the breadth of his company's product range. This certainly wasn't an original idea - his inspiration came from a poster for a shoe manufacturer that advertised 21 styles that he spotted while riding a train in New York.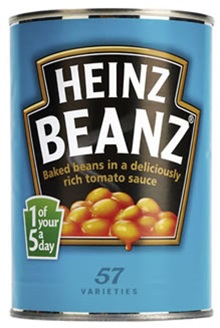 Beanz
However, Heinz' genius was in realising that by promoting the wide range of food products his company produced, he'd convince consumers that his brand had a solution for every culinary eventuality. It's interesting to note that, even at the time, the company's range significantly exceeded this number, but Heinz chose 57 because he believed this 'magic' number was the right choice from a marketing perspective.
The fact that this legendary piece of promotional chutzpah endures to this day – when HJ Heinz markets more than a thousand times the number of products – and the famous 57 is still seen on supermarket shelves around the world shows the enduring power of the idea of choice.
Lessons for publishers
And I believe there's a valuable lesson here for the publishing sector. Specifically, we have to stop seeing our audiences as a homogenous mass and instead start to look at them as complex, highly-segmented entities with each segment having very specific content needs that do not always overlap as much as we would like. In other words, we have to give them more choice over the products and services we provide for them.
Companies like UBM, Centaur, Top Right, Thomson Reuters and TSL all produce market-leading print titles. But every one of them is necessarily a compromise that's aimed at a wide, sector-based audience – from CEOs of major international constructions companies down to site managers, for example, or from NHS board members down to frontline nursing staff. And while the editors do a magnificent job on a weekly or monthly basis in creating issues with maximum cross-audience appeal, a print product is always going to be such a compromise.
Of course the same restrictions don't apply in the digital world. It's relatively straight-forward – providing you've adopted the right technology – to create highly-targeted products and services whether these are functional apps or complete websites. Indeed, a constant complaint from publishers is that they are under attack from just such products in the form of online start-ups.
So why is it that the publishers – who've already got the attention of their audience – are struggling to convert this potential? I think there are two key reasons – the first is around systems and process, and the second is around data.
Need for flexible systems
I began to encounter the first of these challenges some years ago. At the time, we were building a website for a B2B title in the engineering sector (to avoid embarrassment I won't name the title, but I can say it once featured heavily in the final round of Have I Got News For You)…
To read the full article, please visit the InPublishing website.