In addition to sweeping the board at this year's AOP Awards -  winning best B2B site and best online publisher for TSL - the site has been named runner-up in the employment category of the Webby Awards.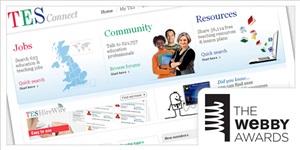 Tes webby
The Webbys are the leading international award honouring excellence on the Internet – the new media equivalent of the Oscars. Established in 1996 during the Web's infancy, the awards are presented by The International Academy of Digital Arts and Sciences, a 550-member body of leading Web experts, business figures, luminaries, visionaries and creative celebrities.
TES Connect was one of only five nominees worldwide in its category. Overall the awards attracted 10,000 entries.
TES Connect is the number one site for teaching jobs from all across the country.  With over 500,000 registered users, it is the UK's leading online recruitment platform for schools and colleges looking to find new quality teaching and support staff.  Visitors to the jobs section can browse by position, subject, workplace and by location and build customised email or SMS job alerts. The site has an established and thriving community element, with around 10 million page accesses each month to its Forums and UGC based Resources sections.
TES Connect is powered by Webvision v3 and Jobs Marketplace.