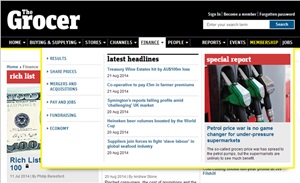 The Grocer
The Grocer has re-launched with a new approach to organising their highly valued information. The new desktop and mobile websites present content in a more dynamic and bolder way through five main channels including 'Finance' – the biggest new feature (available to Finance Members Only), home to the latest and exclusive news and analysis, including extensive company performance data from top risers and fallers to company moves and executive appointments. Integration work with a data service provider through single sign-on and using our content API provides users with seamless access to company-related financial data.
The site also holds a repository of exclusive category reports, including a new series of online-only features, which will explore a new sector each month providing new insights and analysis beyond what is displayed in the weekly magazine. The Grocer Magazine will continue to act as a digest of the most important stories of the week. It is also now available in digital edition format on both Apple and Android platforms, receiving it directly to your mobile phone or tablet.
The Grocer
A new membership-based subscription model has been adopted to reflect the changing and growing range of services The Grocer offers. Through further integration work with Esco, access to content is now done through a tiered access model, allowing Premium Members early provision of need-to-know information ahead of regular subscribers. Users are also issued targeted access denied messages when trying to access gated content, depending on your subscription level. The integration work has also improved the user journey to make purchasing and renewing membership as easy as possible.
The Grocer is powered by Webvision, our market-leading multichannel publishing CMS. Using Webvision, publishers have the ability to create, edit and manage different versions of content for each channel (web, mobile, tablet and print) which is controlled through a single workflow. This allows maximum value to be added to both on and offline content, meeting the daily demand of the editorial, marketing and production teams while reducing your day-to-day operational costs.