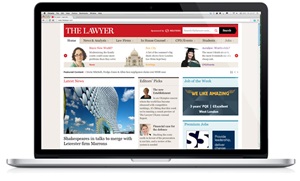 Lawyer
The Lawyer is the top magazine and website in the UK for the legal profession. It is the go-to site for the latest news and insights in the industry. Its sister site, Lawyer2B, provides aspiring law professionals with topics of interest and tips for overall success. Both sites have recently been redesigned and relaunched to provide easier access to its market-leading content, including The Lawyer Acumen– a new digital-only product providing law firms and lawyers with a real-time business intelligence service.
The Lawyer is powered by an innovative technology solution combining our market leading CMS, Webvision and our Marketplace Directories products, which closely integrates a directory of the Top 200 law firms, market data including a comparison charting tool to help users find and compare law firms and lawyers by practice area and region, and related and relevant editorial content.
Both sites have been integrated with our innovative audience development product ADvance which provides a platform for all of Centaur's audience data, allowing the publisher to make clear decisions to drive new product development and data-driven targeted marketing campaigns to drive registration and subscriptions.
The ability to navigate the site easily and effectively is crucial because of the vast level of articles, directory entries (law firms) and content to manage. To accomplish this, Centaur opted for a mega menu to show the depth of content available, and Autonomy's IDOL enterprise search technology was also integrated for delivering a simple and intuitive search experience across the different types of content.