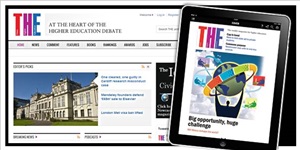 THE
The new website has been improved to allow users to easily access and navigate THE's database of academic, debates, essays and podcasts that currently affect the world of higher education. The site is a hybrid of free, metered registration and subscription access, delivered using Abacus' gatekeeping technology, plus includes hundreds of job listings for teachers and academic professions every week. Subscribers can create their own library of content that is relevant to their interests.
THE is powered by Webvision, our market-leading CMS, which was created specifically for the media sector. Webvision has a unique flexibility which allows editors complete control over the presentation and placement of all content on the landing pages of the site. It is also a genuine multichannel CMS – one platform for all channels (desktop, mobile, tablet and print) – which THE will shortly be using to manage all tablet content to their new iPad app.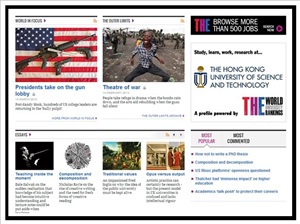 THE
Since 1971, THE has been the most trusted source of information and publications regarding the world of higher education. Originally published as a newspaper, it was re-launched in 2008 as a magazine which remains today. They are well known for their annual publication, QS World University Rankings, which began in 2004. In 2011, THE won two awards at the annual PPA Awards, including Business Media Brand of the Year.  THE is owned by TSL Education Ltd.
For a limited time, THE is offering new subscribers to their new site a 6 week free trial to have access to their vast collection of articles, publications and podcasts. A new hybrid iPad app will soon be unveiled, making it easier for subscribers to read THE in their leisure or on the move.