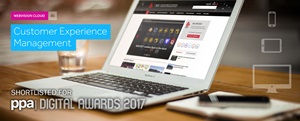 ppa digital awards 2017 shortlisted
This nomination demonstrates the strength of the Webvision Cloud platform and the fact that it is rapidly becoming a game changer for organisations of all sizes. At one end of the spectrum, SMEs now have the ability to build a successful digital publishing operation that meets the growing experience expectations of their audience, using state of the art Cloud technology at an affordable price. And at the other end, we have found that many of our traditional enterprise customers are now choosing to upgrade to the Cloud because they too want all of the cost efficiency of a fully managed Cloud service whilst retaining enterprise-grade platform capability.
The platform went live with our first clients in September 2016 and has a growing client base, with fourteen sites live (correct at date published) and another ten in the pipeline due for delivery in the second half of 2017. Since then, our Webvision Cloud clients have been able to increase the value of their content through subscription and sponsorship revenue, including creative marketing solutions such as native advertising and microsites. They also benefit from Cloud technology with regular updates, new features, and functionality that will extend their business capabilities.
We would also like to congratulate our ADvance client Centaur Media on being shortlisted for Digital Publisher of the Year (Business Media) and Digital Brand of the Year for Marketing Week. 
The results will be announced at The Troxy on 10 October 2017.
For more information about Webvision Cloud, please get in touch.