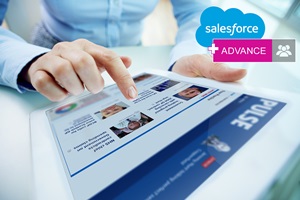 pulse ipad
Effective use of customer data throughout the business development and delivery cycle is fundamental to targeting the right prospects and driving conversion. But such data-driven strategies rely on effective integration between all customer-facing systems. In Cogora's case the two critical systems are the Abacus platform that manages their websites, controls access to content and collects audience engagement data, and Salesforce's CRM that contains sales intelligence and customer records and delivers marketing emails. In many cases the users and customers are the same UK medical professionals.
The project delivered sophisticated bi-directional API integration to synchronise Cogora's core business data between Salesforce, ADvance and Salesforce Marketing Cloud. Salesforce is central to Cogora's sales activity, collecting and managing important data relating Cogora's publishing products, events and lead generation, while Marketing Cloud is used for email marketing. The decision to adopt and integrate Salesforce with ADvance was undertaken to enhance the CRM's functionality by gaining further insight into the online and offline behaviour of Cogora's customers. Customer data (accounts and contacts), web behaviour and transactional history is now synchronised between ADvance and Salesforce, allowing Cogora's business development team and senior management to use Salesforce's suite of reporting tools to provide the business with valuable customer insight.
For example, the Abacus platform powers the Pulse website and the online registration process, operating with a metered access model allowing General Practitioners limited access to their highly valued content. Once the daily limit is reached, users are required to provide their valid GMC (General Medical Council) number to continue with unlimited access, or wait for their metered allowance to reset. And by qualifying users through the registration process Cogora is able to use the data to deliver a personalised experience with tailored content, advertising and offers.
We've been extremely impressed with the smart commercial ideas Cogora have for their data. As a company they are really striving to use what they know about their customers to ensure they deliver the best possible customer experience and in doing so create new sales opportunities across their portfolio of online, print and face-to-face products. The key technical challenge to achieving this goal is to create a seamless flow of information across the systems that generate and hold the data. This is where the integration architecture built into our platforms really plays off."

Ian Eckert, Innovation Director at Abacus
Pulse Today has been on the Webvision CMS platform since 2007, completing a responsive upgrade in 2015. The title has won several prestigious awards, including Business Magazine Brand of the Year in 2016 at the PPA Awards. Launched in 1960, Pulse provides GPs with the information and support they need to treat their patients better and run their practices more effectively. The website and market-leading monthly magazine has a highly engaged audience of 43,000 GPs with content covering political and financial news, formal CPD, cutting-edge investigations, clinical updates, thought-provoking debate and practice business advice.
For more information about our customer experience technology please get in touch.