Metropolis Business Media moved their leading electronics industry magazine, Electronics Weekly, onto the ADvance platform in early 2014 to support the title's growing subscription business. After the successful migration of the publication, a further 16 business titles such as Mortgage Finance Gazette and Building Products have now gone live on the ADvance audience management platform.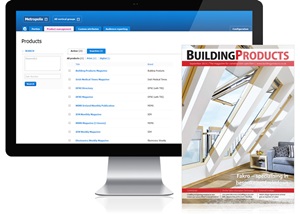 Metropolis on ADvance - CMS and Building Products magazine
With ADvance powering the online subscription process, Metropolis will be able to control their registration, re-verification, and paid for subscription packages for their print and digital editions across all titles. By using the business intelligence and analytics tool, Metropolis will be able to segment their audience through demographic data, such as job title, and subscription information to identify specific behavioural patterns and recognise up- and cross-selling opportunities between different brands and channels.
Metropolis on ADvance - DFNI and Electronics Weekly
ADvance is our cloud-based audience engagement and monetisation platform, designed to support all aspects of modern multi-channel publishing. The platform enables content owners to drive recurring revenue growth by being able to easily and rapidly create, market, package and fulfil both online and offline products. The fully integrated audience database allows for the collection of detailed demographic real-time data drawn from different and often disparate data sources, providing a complete customer view, which is perfect for segmentation and targeted marketing communications.