Subscriptions Management
Drive recurring revenue growth in a multi-platform environment
Effective subscriptions management has always been pivotal to print publishers, but the proliferation of digital channels, the need to bundle print and digital offerings, and the implications of digital fulfilment and access control have raised the bar for subscription management systems.
The engagement opportunities offered by online channels – incremental registration leading to subscription-lite, self-serviced corporate subscriptions, and more personalised but automated renewal campaigns – simply demand more of the underlying platform. The challenge becomes even greater in an environment where seamless integration with other business critical systems such as CRM is now a necessity rather than a luxury. And all the time the system still needs to drive an efficient print fulfilment process.
Only a platform developed specifically to combine all these diverse elements can meet this challenge.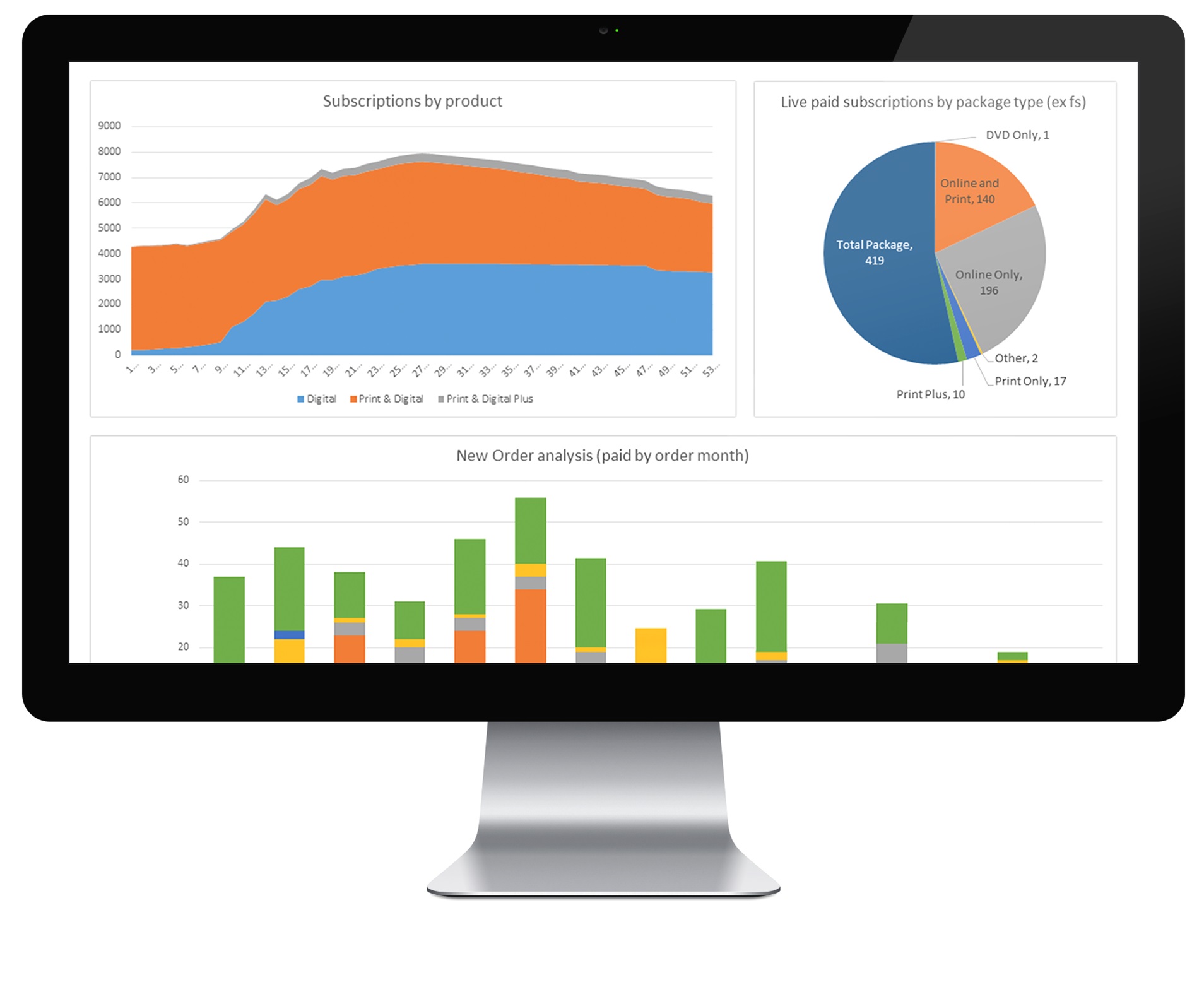 Reports display
Return on Investment
Increase revenue– Create relevant subscription offers, meet the needs of your customers and increase their lifetime value
Increase profit– Optimize the renewal process and reduce effort and marketing spend
Reduce TCO– Realise technology and staff admin savings by using a highly configurable cloud-based system and client self-service
Our comprehensive subscriber management capabilities can handle any type of subscription content bundle, combining digital and print offerings, managing registration and ecommerce sales, supporting digital access management and print fulfilment, while maintaining a single customer view and segmented database, to support marketing and renewals campaigns.
Within a bundle each element can be sold with different timelines, entitlements, tax implications and attribution.
System users can create simple packages for single subscribers or complex multi-product bundles for metered or unlimited usage corporate and institutional access deals. And now it's possible to give control of managing seat allocation and content entitlements back to your customers with corporate subscription self-service capability. Learn more about corporate subscriptions here.
Of equal importance to your business or membership organisation will be your ability to maintain healthy renewal rates with good yields. The subscription management module provides businesses with an intuitive campaign renewal toolset that lets you plan and execute sophisticated renewal strategies – such as promotions and discounts, and automated priority renewal triggers – for your entire subscriber or member database.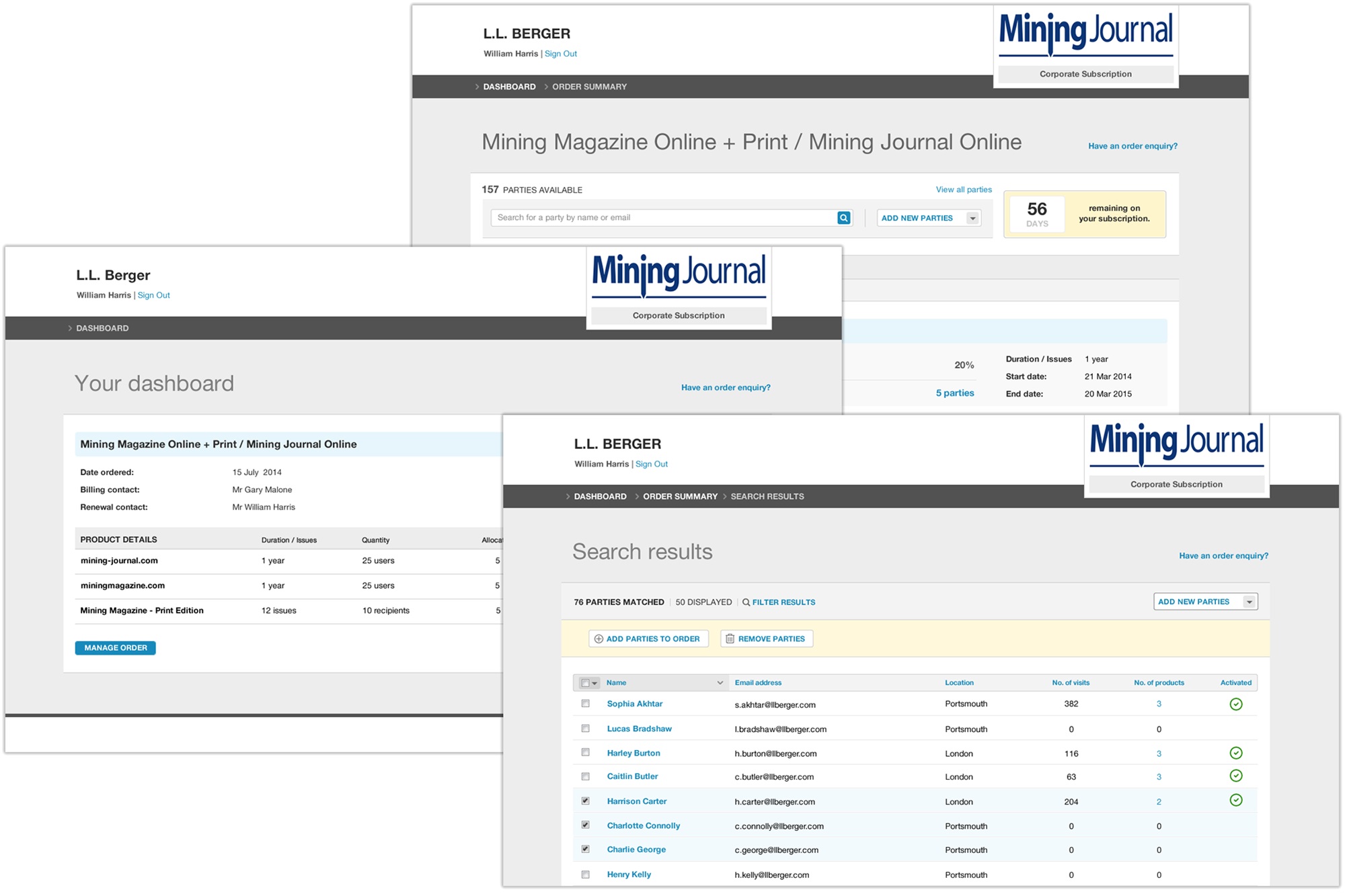 self service
Key Benefits
Content bundles– Manage simple and complex multi-product bundles and all tax variances
Repeat billing– Generate subscription and renewal billing from the same system and simplify the end-to-end process
Renewal campaign tools– Plan and execute sophisticated renewal strategies including promotions and discounts
Reporting suite– Track subscriptions and renewals against forecast for individual and corporate subscribers
Self-service– Reduce admin time to set up and manage corporate accounts by empowering your customers to manage named user allocations
And when this module is combined with the identity & access management capabilities, intelligent messaging can be served to digital channels to drive renewals and even upsell. And of course you can also drive your print fulfilment, supporting CC, mail sorting, grace copies, returns and full liability reporting.
Finally, there is a suite of reports for management, that include revenue, individual and corporate yields, a breakdown of the financial performance of each product element within a subscription bundle; and for subscription marketers, key data that demonstrates the performance and ROI of their acquisition and renewal campaign efforts across a portfolio of multiple brands.